Increase your visibility by creating your professional listing today
---
Optionally upgrade to turbo charge your wedding bookings.
For over 25 years we have helped thousands of wedding businesses reach millions of engaged couples. With over 5 million website visits annually from thousands of couples using our wedding planner and searching for wedding venues and suppliers like you - our members have received thousands of quality enquiries.
Our dedicated account managers are always on hand to help you to increase your exposure and leverage from our promotional experience and growing social media presence. Sign up to one of our advertising packages and accelerate the growth of your wedding business today.
Why our listings generate so many more quality enquiries
If you would like further information or help in getting the best from Guides for Brides call our dedicated account management team on
01235 770078
Request Call Back
Want to position yourself as the top choice?
If you have invested in your business to make it the best it can be, now invest in your marketing and position yourself as the top choice.
Our dedicated team of account managers are on hand to you to help you raise your profile and increase your business exposure. Our packages provide far greater visibility and increase your wedding bookings.
Sign up now to get your business in front of brides today!
Standard
Be part of our professional community.
Includes a full-feature professional profile with up to 50 gallery photos, videos, calendar, reviews and a link to your website.
Additionally advertise in other counties.
£14.50 / month or £145.00 / year (+VAT)
Recommended
Featured
Stand out above your competition by appearing higher up the page.
All the benefits of membership to our amazing community and our full-feature professional profile.
Additionally advertise in other counties.
£29.50 / month or £295.00 / year (+VAT)
Spotlight
Dramatically increase your wedding enquiries by being at the top of the page.
Full-feature professional profile plus mentions on blogs and social media for a full marketing solution.
Additionally advertise in other counties.
£59.50 / month or £595.00 / year (+VAT)
Need more information?
Sign up for free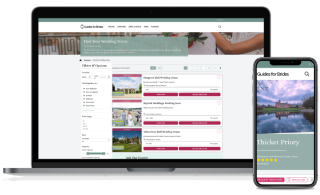 List your business for free with a basic listing today and be seen by 1000s of couples.
Media Pack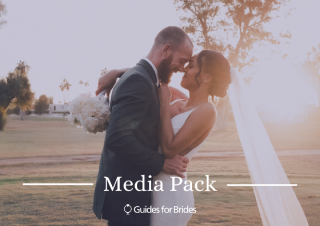 Download our 2023 media pack for more information about all Guides for Brides packages.
My advert on Guides for Brides has worked brilliantly with anything from 80 – 120 click throughs to my website every month. A great return for just £145 a year! I am really pleased with the response to the Guides for Brides ads I have – I have had 17 bookings this year as a result of it!!