/

Reading

/

De Vere Wokefield Estate
Price Band: ££ - £££
Typical Price: £10,000
Price Range: £5,000 - £30,000
Per Person Price Range: £112 - £315
Guests for a ceremony: 400
Guest Capacity (min / max): 4 / 400
Guests for sit down meal: 4 - 330
Space for more? (e.g. marquee): Yes
Accommodation Rooms: 376
Accommodation Capacity: 800
376 Bedrooms for Guest Accommodation
Picturesque Grounds for Wedding Photos
Complimentary Honeymoon Suite
1st Anniversary Dinner, Bed and Breakfast
Discounted accommodation for guests
Civil ceremony licensed
Humanist / Celebrant weddings
Outdoor Ceremonies
Receptions Only
Countryside
Town
Lakeside
Woodland
Remote
Stately home
Large hotel
Manor House
Mansion
Golf Club & Sporting Venues
Land For Hire / Rent My Field
Outdoor ceremonies
Exclusive use
Bridal suite
Guest rooms
Orangery Or Marquee
Dance floor
Live music permitted
Discos permitted
Fireworks permitted
Wedding coordinator
Swimming pool
Onsite car parking
One wedding per day
Licensed bar
Inhouse Toastmaster
Wedding packages
Bespoke weddings
Inhouse Caterers
Outside Caterers Permitted
Preferred Caterers
BBQ & Hog Roasts
Asian
Jewish
Caribbean
Halal
Kosher
Greek
Vegan
Can we have exclusive use of the venue?
Yes the Mansion house
Are you licenced for civil ceremonies?
Yes up to 300 guests
Can we have the wedding ceremony outdoors?
Yes
Do you charge corkage if we supply our own wine?
We only allow corkage if you go for our dry hire package
Can we use our own caterers?
Yes as long as they are on own accredited list
From what time can we get access to decorate the venue?
08:00 the morning of the wedding
What time does the reception need to finish?
Sunday - Thursday - 00:00 Friday and Saturday - 01:00
Are there noise restrictions if we have a live band?
No - we just ask for them to play a little quieter after 00:00
Are fireworks allowed?
Yes but only with our recommended supplier - Total Pyro
Is confetti allowed?
Yes - outside only and biodegradable
Are candles allowed?
Yes
Is there a honeymoon or bridal suite?
Yes
Is there accommodation on site?
Yes - 376 bedrooms
Is there additional accommodation nearby?
Yes
About De Vere Wokefield Estate
Wokefield Estate boasts two separate hotels on the same estate; so whether you are looking for country glam in our Mansion House, or the contemporary modern feel of Wokefield Place, our Estate has the perfect option for you.
Set in 250 acres of manicured grounds, the Mansion House has recently been refurbished to accommodate up to 300 guests for a civil ceremony, and 260 for sit down reception. With 87 bedrooms located in the Mansion, and a further 289 in our two other buildings; Wokefield Estate is the perfect venue for a sophisticated and unique wedding day.
Our Wokefield Suite is a purpose built function space with high ceilings, colour changing lights, satellite kitchen and access to The Pantry, your very own private relaxation space - the perfect suite for your self-catered wedding.
Over this difficult time we are taking every precaution we can to make your visit and day with us as safe and memorable as possible. Please look at our website link for further information.
Customer Reviews
There are truly no words for how fantastic this place is . Andy and his team went above and beyond what anyone could ever dream of to make mine and my husbands wedding night special . I have never felt so special or so gratefull to this team of amazing people . The rooms are amazing and the view is stunning . Definitely take the time out to stay hear ,you will not regret it . we will be back hear for every special occasion as we truly feel like this is out special place .

Sara Louise Goshawk
We got married at Wokefield Estate on 30th December 2019 and had the best day ever! Our wedding co-ordinator Natassia was amazing from start to finish and didn't bat an eyelid when I had 10000 questions for her every week leading up to the wedding! Our events manager on the day (think his name was Dan) was brilliant and did everything to make sure the day ran smoothly and everything happened exactly when it was meant to. The food and the service of the food was second to none and everyone is still commenting on how great it was. I would definitely recommend Wokefield Estate to anyone considering getting married here. More than happy to ask any questions people may have

Amy Glossop
On Saturday 2nd of August, I married my Fiancée in the Mansion House at Wokefield. I had stayed at Wokefield and had played golf on their wonderful championship course many times before I was engaged and when we were looking for a wedding venue last year, I knew that I wanted my, now, wife to see the place. After meeting with the wonderful Cali (Wokefield's wedding coordinator) with my future in laws, we knew that the venue was right for us. The exterior of the mansion house drags you back to years gone by and takes your breath away with its stunning vintage look. However, inside, it is a mixture of classic stately home with all of the modern trappings you would expect from a De Vere venue. Over the past year or so, we had travelled to the venue to organise many of the fine details of our wedding and every time we have done so, the venue and its staff have made things very easy for us. We had stayed overnight on many occasions and the rooms are always spotlessly clean with all of the facilities you would expect to see in a modern hotel room. The build up to our wedding was unbelievably smooth and this is where Cali comes in for huge credit. We were never pressured to make decisions in a rush, neither were we pressured into using the venues many preferred suppliers. The preferred suppliers that we did use, however, were superb! Cali helped us to setup a payment programme which worked for us and guided us through the whole process with advice and not orders! The chef at Wokefield was amazing. Any couples planning a wedding at the venue are invited to a menu sampling. We attended ours and made a date of it. The chef (whose name I have embarrassingly forgotten!) came and sat with us to guide us through the menu. He also pointed out factors which may influence decisions about our menu including the weather we can expect on the day (so as not to pick anything to hearty or heavy) and helped us to pick a menu which complimented our evening food. On our wedding day, the food was a particular highlight. The canapés were astonishing, our three cousre wedding breakfast was a hit and our evening hog roast was very well received. One of the best things about Wokefield Park as a wedding venue is the diversity of its space. On the day before the wedding, most of our friends and family travelled to the venue to spend the night. The ladies stayed in the mansion house and had spa treatments and dinner, whilst the gents stayed in the executive centre and played golf. This allowed everybody a chance to relax, unwind and enjoy the weding the next day. Our guests were able to book rooms at a discounted price long before our wedding. There are many rooms in the mansion house and we were fortunate that all of our guests managed to secure a room in the mansion house. However, if you have a larger wedding guest list, rest assured that rooms would be found for your guests at the executive centre which is at most 500 yards away next door to the mansion house. Our wedding day itself was superb. Despite the early morning rain, the sun came out when it mattered and everything ran smoothly. This was in no small part down to the precision organisation Cali and her team had applied to the day. All of our suppliers were greeted and managed by the team and we literally didn't need to lift a finger on the day. Cali and her team knew our plans and layouts like the 'back of their hand' and everything looked, sounded and worked the way we wanted it to. As the day turned into night, the levels of service remained consistently high. Bar staff, waitresses and management were on hand to help with whatever they could. I setup a bar tab facility and was kept up to speed with how much was being spent at regular intervals which was very handy. As my wife and I left for the evening, we asked that anything left behind be placed in a storage rooms for us. The next morning, we found that event the balloons had been kept for us! At breakfast, the staff had placed our wedding flowers on the breakfast tables for us and had even picked up the individual scatter crystals from the night before and placed those on the breakfast tables for our guests. This must have taken the team ages! We didn't ask for this, but it was a wonderful touch. The only issue we experienced throughout the entire weekend of our wedding was an issue with one a room that one of my wife's bridesmaids was staying in. During our ceremony, we had a very heavy rain shower and this had caused a small leak in her room (the building is listed and bound to show some signs of its age!). The next morning, she reported the issue to staff and was refunded for the whole of her stay without argument. As the title or my review states, we had a dream wedding. Anybody who has organised a wedding will know that it can be stressful. However Cali and the team and Wokefield took all of the stress and burden involved with a wedding venue away and made our day superb. We will never forget our special weekend at Wokefield and neither will our families.

Tom & Jane Blackwell
Dear Cali and the team, We would just like you to know how pleased and grateful we are to you, for the wonderful service and attention to detail you and your staff showed us on Stef & Russ' wedding weekend 13/6 - 15/6. We felt that from start to finish it was perfect in everyway, thanks to you and your excellent staff and the beautiful venue! Once again many thanks, Sue & Steve Dyer (Stef's mum and dad).

Sue & Steve Dyer
Hi Cali We would like to thank you so much for making our Wedding day so special. Working with you over the last few years has been so stress free, you have helped us so much with ideas for the Wedding day. On the day of the Wedding we couldn't believe how smoothly it ran. Us nor our guests knew what was going on the back ground when the rooms were being changed around etc and there we no hitches at all. You and your team are amazing, you did such a good job. We had so many comments from our guests about how perfect the venue was, how good the food was, and how friendly and helpful the staff were. We are truly very grateful to you for making our day so perfect. We cant wait to come back next year for our anniversary. Thanks again Stef & Russ

Stefanie & Russell Powell
Hi Cali, Thank you very much for making the day run smoothly. It was a wonderful time and everyone enjoyed themselves. We look forward to our Anniversary stay next year. Kind Regards Steve and Shannon.

Steve Barrett
Wedding Fairs
---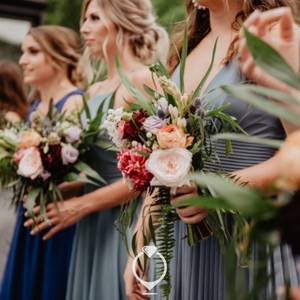 Wedding Fair at De Vere Wokefield Estate
De Vere Wokefield Estate, United Kingdom, Reading
25th of September 2022
De Vere Wokefield Estate
Goodboys Lane, Mortimer, Reading, Berkshire, RG7 3AE
Our recommended suppliers
---
United Kingdom, Burnham
£££ - ££££
Beauty, Hair & Make-up