Price Band: ££ - £££
Typical Price: £10,500
Price Range: £10,000 - £25,000
Based on a typical wedding reception for minimum of 80 guests, including venue hire, wedding breakfast, drinks package, bedroom suite for the Bride & Groom and evening buffet.
Hire Price Range: £750 - £4,000
Per Person Price Range: £130 - £185
Guests for a ceremony: 200
Guest Capacity (min / max): 10 / 200
Guests for sit down meal: 10 - 180
Accommodation Rooms: 84
Accommodation Capacity: 180
Panoramic Sea Views of the Firth of Forth
Exclusive Use of Wedding Suite
Dedicated Wedding Coordinator
Accommodation for family and friends
Fantastic Spa & Leisure Facilities
Civil ceremony licensed
Humanist / Celebrant weddings
Outdoor Ceremonies
Receptions Only
Countryside
Waterside
Town
Coastal
Large hotel
Pubs & Restaurants
Unique & Unusual
Intimate Venue
Outdoor Weddings
Weekend Hire
Historic
Walled Garden
Suitable for Asian Weddings
Elopements
Outdoor ceremonies
Exclusive use
Bridal suite
Guest rooms
Dance floor
Live music permitted
Discos permitted
Wedding coordinator
Swimming pool
Spa facilities
Onsite car parking
One wedding per day
Licensed bar
Inhouse Toastmaster
Wedding packages
Bespoke weddings
Dog friendly
Good Disabled Access
Inhouse Caterers
BBQ & Hog Roasts
Vegan
Can we have exclusive use of the venue?
Yes you can have exclusive use of our Function Suite, Fidra Suite.
Are you licenced for civil ceremonies?
Yes, both inside the hotel and outside in our grounds
Can we have the wedding ceremony outdoors?
Yes, up to our maximum numbers noted and weather permitted. It is Scotland after all !
From what time can we get access to decorate the venue?
Generally from 9am on the day. If requested, potentially the evening prior.
What time does the reception need to finish?
The reception needs to finish at 1am.
Is confetti allowed?
Yes, biodegradable confetti is allowed.
Are candles allowed?
Yes, candles are allowed as long as they are not a naked flame.
Are there noise restrictions if we have a live band?
No, however, a moderate level is appreciated.
Is there a honeymoon or bridal suite?
Yes, with our packages we offer the Bridal Suite for our newly wed couples!
Is there accommodation on site?
Yes, our hotel has 84 bedrooms and with our packages, we can offer guaranteed rates for your friends and family.
Do you charge corkage if we supply our own wine?
Within restrictions we would allow you to bring your own wine, a corkage would be applied dependent upon the product and quantity.
Can we use our own caterers?
Upon request.
Are fireworks allowed?
Regretfully, no.
Is there additional accommodation nearby?
There are neighbouring accommodation providers to the hotel.
About Marine North Berwick
A Bass Rock backdrop. Beautiful Architecture. Picturesque Gardens. Period Interiors. Meet Marine North Berwick, the perfect setting for an unforgettable wedding.
Nestled between unspoiled beaches, Marine North Berwick is a captivating Victorian property boasting elegant decor and original features. Let this special place set the scene for your wedding story: we've three luxurious venues to choose from, suitable for the most lavish or low-key of occasions.

Every wedding is special and we'll work in partnership with you to deliver exactly what your heart desires, whether that's a religious or civil ceremony with a traditional ceilidh or a simple vow renewal. From initial planning to ensuring seamless proceedings on the day, we'll be with you every step of the way.

The Fidra Suite
This large, contemporary space with its floor-to-ceiling glass wall boasts incredible views of the Firth of Forth over to Craigleith. Features include a stunning wrap-around balcony, access to our charming walled garden, private bar, and private entrance. It can comfortably accommodate up to 200 guests, making it ideal for a formal wedding dinner or reception.

The Library
This atmospheric space boasts oak-paneled walls, an impressive fireplace, and large bay windows, perfect for admiring the views over the Firth of Forth. With space for 22 guests, it's the perfect setting for an intimate ceremony.

The Walled Garden
Let our beautiful walled garden set the tone for your special day. With space for 170 guests, it's a tranquil backdrop for Spring and Summer weddings.
Customer Reviews
Both Amy and rest of the team did a wonderful job making sure the day ran smoothly. Everyone commented upon how there was very little "dead time" spent waiting around wondering what was happening next. The food was excellent - we couldn't believe the catering staff could produce such high quality meals for 100 guests. Even last minute obscure requests like batteries for the children's favours were accommodated.

Juli & Theo
We honestly had the best day ever on Saturday - it was perfect! A large part of this is down to Amy and all the amazing staff at The Marine. Throughout the whole planning process we have felt completely confident in the team in ensuring our wedding was exactly what we wanted. All of our guests have commented on the smooth running of the day, the quality of the food, and the friendliness of the staff. We would 100% recommend The Marine to anyone wanting to get married in this part of the world - the location and venue are absolutely stunning!

Lauren & Rob Gathergood
What can we say ...it was just perfect!! We had one of the best days of our lives and so did all the guests and family. Your work and effort, along with Lorna, Jim, Kenny and the hotel staff, to make sure that everything run and looked perfect for our day was outstanding. After 27 years together and two preparing our special day, it went better than what we had in mind. As I said, it was THE PERFECT WEDDING FOR GARETH AND I! Having the Bass Rock Bar and the amazing views from the Frida room added that luxurious touch so people that were not staying at the hotel got to see how beautiful the hotel looks after the renovation.

Luzma & Gareth
We honestly can't thank you enough for everything - the day went so perfectly! I honestly wish we could just do it all again! We had so many guests telling us how beautiful they thought the venue was and how much they loved the food! Thank you so much for having us!

Kiera & Jack
Amy and the team at the Marine Hotel took us step-by-step through our entire wedding planning. Amy asked the best questions, and always had the right answers. We were welcomed every time we visited with drinks, tours and a real VIP experience. The hotel refurbishment has added that extra 'classy' touch to the venue, and the stellar views from the wedding suite out onto the Forth were spectacular. Our big day came together smoothly thanks to the team, and we arrived on the day relaxed knowing everything was well taken care of. Our big day was exactly how we planned, the attention to detail from the wedding staff was sublime and the professionalism in which they interacted with both ourselves and our guests was brilliant. We think back on our day with nothing but 24 hours of fondness and joy, everything went absolutely perfectly and all of our dreams came true. We cannot recommend this venue and team enough.

Amy
What can we say… there are honestly no words to describe how amazing our experience was with you guys. From start to finish, everything ran smoothly and went beautifully. Every single member is staff we came into contact with was so pleasant, polite and welcoming and nothing was ever too much trouble. Thanks to you Amy for having such great communication and patience with us through out and during our special day, nothing was too much to ask and you made the day look so effortless and easy. A special mention to Greame, Phillip and James too, they were all amazing. We've had fabulous feedback from all of our guests too. The most perfect place we could have chosen, all we have spoken about over the past few days is how happy we are that we chose the Marine, it will always be close to our hearts. We can't wait to come back for our 1 year anniversary stay and will certainly be coming for a drink every time we are up in North Berwick.

Alex & Jonny
Tony and I wanted to say how very much we enjoyed our Special Day at The Marine. Our wedding was a huge success in every respect and was the happiest day of our lives. The guidance and support Amy gave throughout the organisation of our wedding was wonderful and gave us the confidence that all would go well. We were delighted at how easy it seemed to arrange with Amy all the things we needed for our ceremony, vegan meal and disco. Having the ceremony outside was exactly as we imagined it and Amy made that happen with no fuss or stress so we could, and did, enjoy every minute. Everyone was hugely impressed with the beautiful hotel facilities, the friendly and professional staff, the fabulous vegan meal and the whole ambience throughout. So thank you again for making our Wedding at The Marine such a memorable day for all of us.

Donald & Tony
Jennifer and I had originally planned our wedding at The Marine for March 2020 and we had a fantastic time planning and preparing for our big day with the help of Amy and her team. With just over a week to go we got the dreaded news that our wedding could not go ahead due to the government restrictions, we immediately contacted Amy who along with General Manager Bruno met us straight away to discuss our options going forward. Doing our best to predict the future we decided on a date in October 2020, we got regular updates from The Marine as time went on with what we could and could not have and our wedding went ahead on our rescheduled date in October. Our smaller big day was fantastic! The weather was great , our twenty guests still managed to have a drinks reception on arrival before we tied the knot in the Bass Rock Suite. The staff at The Marine Hotel went over and above to ensure that everyone was well catered for and everything went to plan (and even on time!) and in a safe and clean way! All our rooms were lovely and we treated ourselves the next day to a treatment in the Spa, as did a number of our guests! We cannot thank the team at The Marine enough for looking after us all and making it a very special day!

Peter & Jeni
So we absolutely CANNOT fault the professionalism, dedication, hard work and flexibility of the staff at the Marine hotel in 2020 during such a difficult and stressful time. I feel a little emotional writing this as having our wedding cancelled 11 days before it was due to happen was absolutely heartbreaking at the time. The blow was made so much easier by having so much support from the staff at the hotel. When we decided we wanted to go ahead with a small intimate wedding with 15 guests in October 2020, the staff at the Marine were incredible. We had a Plan A, a Plan B and a Plan C, depending on any covid rule changes. The creative thinking, thoughtfulness and quick email replies with reassurance were an absolute blessing for us. We felt completely secure having such regular contact, and someone to oversee track and trace, and help us plan our 'bubbles' and organise our seating plan. I have to say, on reflection- we loved the small intimate wedding so much, we wouldn't change a thing. A cosy autumnal theme, fire on, candles lit, delicious food and our most important family and friends- I would highly recommend a small wedding to anyone now!! Lots of our friends had to rearrange weddings this year and I have heard some real horror stories. I am so so grateful for the Marine Hotel and am impressed by how they have handled everything. I can't wait to celebrate again in 2022!

Jen & Phil
Our original wedding plans were disrupted (like many others) by the pandemic. We had booked a large gathering with a different venue, that would not have been feasible, and like many others postponed. As our original wedding day drew nearer we decided that we wanted to get married regardless, with just the two of us and legal witnesses. We chose North Berwick as it is a place with special meaning to us, closer to home, and undeniably beautiful. Working with Amy from start to finish was an absolute delight. Her communications by email prior to our tour and after were prompt and clear. On site during our tour we were shown the large wedding suite along with the smaller rooms usually reserved for board meetings and dinners. We selected the library for our ceremony and the front room for a quiet dinner afterwards. It felt special to be the smallest wedding the Marine Hotel had hosted, and I can confidently say that they should start hosting micro-weddings more often. I could not have felt more like a bride, the staff were so accommodating. We brought some decorations ourselves and I was amazed at how the room was transformed. Everyone went out of their way to make our day special. I even forgot to pack my toothbrush the night before and the wonderful reception staff helped me out. That's not all. The food was simply amazing. I cannot describe how delicious it was, and the timing made us feel like we had a private kitchen just for us. The menu was customised by combining some ideas they had on their standard menu and some of our favourites. Accomidating gluten free was also no issue. The battered fish and chips were so yum that you couldn't tell they were gluten free. They even prepared special cocktails for us after we got in from the cold (we were married in October, so it was a bit chilly). The setting is absolutely beautiful, we had a photographer come along to capture the day and the pictures turned out amazing. In the late evening it was very quiet and we ventured out onto the lawn with some sparklers to end the night (with permission from the very delightful front desk staff of course). It wasn't the wedding we originally planned but, the team at the Marine Hotel could not have done anything more to make it any better. Our rescheduled large reception event venue has alot to live up to for when we are allowed to celebrate with everyone together. We were beyond pleased at our experience and if you are considering booking with them definitely get the Bridal Suite with your package for getting ready. I cannot explain how amazing it was - all I'll say is you will not regret it. We extended our stay for an extra night and we are already planning a stay for our first anniversary. Thanks again for a fantastic day.

Francesca & Calum
We have been working with the Marine Hotel since March 2019 when we were planning a big wedding in summer of 2020. Pre-pandemic and beyond, the events team have remained supportive, communicative, and understanding. Amy and her team have not only facilitated a date change for our big celebration twice, they also seamlessly accommodated our smaller, intimate Autumn ceremony at short notice. In a time that has otherwise been quite bleak for two healthcare professionals, we are so lucky to have created such an emotional and special memory with each other and with our parents. Amy and her team made that all possible: we cannot thank you enough.

Juli & Theo
We really did have the best day of our lives and can't thank you and the team enough for pulling it all off on the day.

Stuart
Thank you to you and the team for our wedding on Saturday. Hana and Souvik were fantastic and were such a pleasure to work with. It was so relaxing to not have to worry about food and being ill on the day, and other gluten free guests commented on how much of a pleasure it was to be able to eat all the canapés and not have to worry about bread etc. We also had a guest who had previously worked at the Marine Hotel for three/four years and who commented on how impressed they were with the standard of service.

Emma
Good Morning, Just wanted to drop you an email to thank every single member of staff who was on duty on the 17th August on my Wedding day. They all done an amazing job and I am so grateful to everyone. Everyone has complemented the food, hotel and just said it was a fantastic day & night. I wish I could do it all again as the day flew in. Never mind we are off to Koh Samui in Thailand tomorrow for our honeymoon, I am well in need of some relaxation. Thanks again & please pass on my compliments to all staff working that day. Thanks, Erin

Erin W
Wedding Fairs
---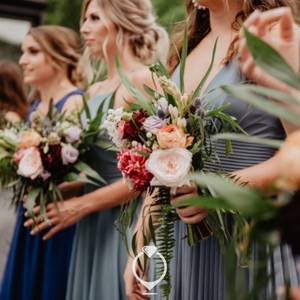 Marine North Berwick Wedding Showcase
Marine North Berwick, United Kingdom, North Berwick
11th of September 2022
12noon-4pm, Meet our dedicated wedding planners over a glass of fizz and sweet treats. Guests will also receive 20% off Sunday Lunch at The Lawn on the day.
Marine North Berwick
Cromwell Road, North Berwick, East Lothian, EH39 4LZ
Our recommended suppliers
---