Price Band: ££ - £££
Hire Price Range: £2,000 - £6,250
Guests for a ceremony: 85
Guest Capacity (min / max): 50 / 150
Guests for sit down meal: 50 - 85
Accommodation Rooms: 5
Accommodation Capacity: 10
Civil ceremony licensed
Outdoor Ceremonies
Receptions Only
Barn
Unique & Unusual
Other
Outdoor ceremonies
Exclusive use
Dance floor
Live music permitted
Discos permitted
Fireworks permitted
Wedding coordinator
Onsite car parking
One wedding per day
Licensed bar
Inhouse Toastmaster
Wedding packages
Bespoke weddings
Inhouse Caterers
BBQ & Hog Roasts
Asian
Jewish
Caribbean
Halal
Kosher
Greek
Vegan
Can we have exclusive use of the venue?
Yes
Are you licenced for civil ceremonies?
Yes
Can we have the wedding ceremony outdoors?
Yes
Do you charge corkage if we supply our own wine?
NO
Can we use our own caterers?
NO
From what time can we get access to decorate the venue?
Please contact us direct
What time does the reception need to finish?
11pm
Are there noise restrictions if we have a live band?
no
Are fireworks allowed?
Yes
Is confetti allowed?
Biodegradable
Are candles allowed?
yes
Is there a honeymoon or bridal suite?
Yes
Is there accommodation on site?
Yes
Is there additional accommodation nearby?
Yes
Wickham Estate is a beautiful location to hold your special wedding day or private function. With exclusive use of our stunning venue for your celebration it will create forever memories. Looking for a stunning Vineyard wedding venue in Hampshire.
We understand that each couple is unique & your wedding day should be too, our friendly team are here to help you through your planning stages, creating a stress free, memorable experience.

Suitable for indoor & outdoor weddings

What better place to celebrate your big day than at our beautiful vineyard nestled amongst the stunning Hampshire countryside in the Meon Valley. With exclusive use, our relaxed and unique venue is the perfect place to take your vows & celebrate your new journey as a married couple.

From the moment you enter, you & your guests will be wowed by the spectacular views of the vines and scenery. Say 'I do' standing side-by-side in one of our 3 beautiful locations. With inside & outside ceremony spots, you will be taking your vows in the most romantic and intimate settings.

Share the moment with your loved ones as we are licensed to hold 90 guests at your wedding.

Amid the vines sits the Old Winery & courtyard, beautifully renovated into a rustic barn perfect to hold your wedding breakfast and evening reception. With original wooden beams, chandeliers made of vintage crystal cut wine glasses & 10ft oak doors, this room holds characteristics of the Old Winery it once was but is also the perfect canvas to transform for your wedding.

The Old Winery can hold up to 85 guests for your wedding breakfast and up to 150 evening guests.

Due to an alternate management system, the calendar is not updated regularly, please call for available dates.
Customer Reviews
The Perfect Wedding Our experience at three choirs was incredible. Sam and Grace were so friendly and reassuring in the stressful times in planning, and on the day keeping things flowing and in line. We highly recommend the gorgeous venue and the wine itself for the day. It was the perfect combination with the food from Exquisite Catering team provided by Three choirs. The accommodation on site and the bridal suite was well equipped with what we needed and in perfect condition. You are guaranteed to have the wedding of your dreams at this venue and the staff make that happen. Even though we had to postpone our perfect day by an extra year and have a wedding still with restrictions in place, the Girls were quick to update us on what was happening and provide ideas to make it work. We cant thank Three Choirs enough for giving us a day we will remember for the rest of our lives.

Ashley Y
Not yet had our wedding due to Covid but I wanted to leave a review as the teams correspondence with us has been exceptional during these testing times. Samantha has been a dream to work with in order to arrange our postponement date, letting us know all options available. They have not tried to financially benefit from the postponements or to restrict the dates we can postpone too, as I have heard many other wedding venues have. I can not recommend them enough as a wedding venue. We look forward to our new wedding date and working with Three Choirs for that much longer.

Ellie Sweeney
Just wanted to say thank you for everything on Friday, We had the most perfect day!! All of our guests commented on how stunning the venue was and you made the day run so perfectly. Thank you for giving us the most perfect wedding day & for all your help! Love Mr & Mrs Cooper xx

Tara & Mat Cooper
We got married at the Three Choirs Vineyard on the 1st of March 2019, we had the most amazing day! The staff were absolutely fantastic and helped make the day go as smoothly as possible both prior and during the day. The venue was stunning both inside and out! Would highly recommend this setting.

Oonagh Tracey
We looked in to a number of locations for our wedding but as soon as we saw the vineyard we knew it was the one. From the very first visit to subsequent visits to our final appointment and the wedding day itself, we couldn't have asked for or dreamt for a better place or better people to deal with. Sam and Helen at the vineyard was always helpful, always friendly and above all they were always there! I only had a couple of wobbles and each time Sam told me 'don't worry we've got you' and that was so true. Getting married in the gazebo was just dreamy and our photos have come out with a real romantic feeling - just what a wedding should be. The vineyard has everything you need whether you want a big wedding with a band/disco or a smaller wedding like we had (40 guests) it is perfect. An outside place in the vines to get married, a wet weather room just in case it rains, a beautiful area for drinks and canapes and the main room - the old winery - for your wedding breakfast. They are also putting in accommodation which just adds that finishing touch. I honestly can't rate the location, the staff and Sam and Helen highly enough. Best day of our lives and not just because we got married. All of our guests commented on how beautiful the venue was as well.

Sarah and Tony Blackman
We recently booked our wedding to be held at the three choirs vineyard and we can both say that we were not disappointed. It was the most amazing day at the fabulous venue. We met Steph to view the venue during the planning stages and she could not have been more accommodating. So very welcoming and very knowledgable, nothing was too much trouble. On the morning of the wedding, all members of the team were on site to help with the set up. Thank you so much (Sam, Steph and Helen). A wonderful and beautiful place to hold the small intimate ceremony that we had hoped for. We were given lots of options of what they could offer to make the day extra special and this helped with what would normally be a stressful experience. The grand hall was amazing and the outside catering was just superb (Thank you Wild Gastro). Food was outstanding and all our guests were singing their praises. Sam and her team are a fabulous group of people and we couldn't of wished for our day to be any more perfect. The whole wedding party couldn't comment enough on how amazing the day was, the food and also how the team at the venue we're so accommodating. The most amazing day and we will all never forget it xx thank you all so so much for making us have such beautiful and wonderful memories xx Donna and Darren Wright

Donna and Darren Wright
Dear Sam, Jessica & Russ Thank you all so much for our wonderful wedding day on the 9th September 2017. It was absolutely perfect thanks to you all & your lovely ladies serving. Nothing was too much trouble & you completely put us and our guests at ease and thank you Sam for advising and guiding us on the day to make things more special. All our love & wishes for your continued successes Mark & Lori xxxxx

Mark and Lori
Dear Sam, We just wanted to say a big thank you to you, Russell and all of the team there that helped make our Wedding Day so special. All our guests loved the setting, food and wines, and we are particularly grateful for all the support you gave throughout the day. It couldn't have been better! Many thanks again Best wishes Claire & James Bridgland

Claire & James Bridgland
To all at Three Choirs Thank you so much for all your work making our wedding day so special. It is most definitely the best day of our lives! The food was amazing & the vineyard looked beautiful! Love Garry & Julie

Garry & Julie
Thank you so much for your help and support leading up to our wedding and on our big day! It was the most perfect day! With love, Chris and Vix

Chris and Vix
To Sam and all the team at Three Choirs Just to say thank you so much for everything you did on our wedding day and for helping it to be such a fantastic day. Everything was just wonderful - the venue is fabulous and was exactly what we wanted - the grounds and the vines are stunning, the food and wine were absolutely delicious and the barn made such a beautiful reception venue. thank you to all the staff for the great service and attention to detail. We can't wait to come back soon for some more delicious food and wine. Wishing you many happy and successful years ahead Jo & Ollie Flaconer xxx

Jo & Ollie Flaconer
Dear Sam, Helen and all the team at Three Choirs. We know this is late but it doesn't come with any less love and thanks - Thank you all for giving us the best wedding day we could have dreamed of. From the minute I stepped foot in the vineyard I knew it was perfect but seeing everything come together made it even more so. We've had endless comments on how super the food was, how beautiful and relaxed everything felt and how much our guests thoroughly enjoyed themselves. Thank you for all you did to five us a wedding day we'll never forget, hope to visit again soon! Loads of love Hayley and David

Hayley & David
We had our wedding here in May 2018 and the venue itself was stunning. We were lucky enough to have wonderful weather and had our ceremony in the gazebo.  Sadly, we had a few issues just before the wedding day and on the eve of the wedding day itself. There were some communication issues with management regarding major layout changes, PAT testing certificates and when the music would end. Sadly some of our guests were closed off at the venue and left to wait outside the venue for taxis. The venue itself is stunning, but we recommend clarifying all the fine details before booking to ensure you get the best wedding day you can.

Sarginson
Wedding Fairs
---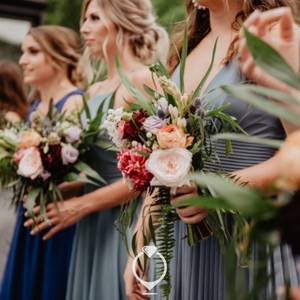 Wickham Estate Wedding Showcase
Wickham Estate, United Kingdom, Shedfield
25th of September 2022
Open 11am-3pm | Free Entry | Recommended Suppliers Attending Enjoy exploring the grounds at your leisure and seeing what Wickham Estate has to offer as a beautiful wedding venue. The wedding team will be available to answer any questions.
Wickham Estate
Botley Road, Shedfield, Hampshire, SO32 2HL
Our recommended suppliers
---